LONDON: Raja Permaisuri Agong Tunku Azizah Aminah Maimunah Iskandariah last night paid tribute to all quarters who had helped make the promotion of the Tenun Pahang DiRaja exhibition, currently being held at the Malaysian High Commission in Belgrave Square, a success.
Tunku Azizah expressed her thanks to Malaysian High Commissioner Zakri Jaafar, who was present with his wife Nor Aini Abdul Rahman at a dinner at the newly-opened Halia UK restaurant in London.
"I would like to thank the Malaysian High Commission as well as the staff for the use the venue and if possible, I would like to return for more exhibitions of the 'tenun' fabrics here," she said in an impromptu speech at the event, which was held to seal a strategic cooperation between Halia UK and Tourism Pahang in promoting the state.
The Royal Pahang Weave exhibition is part of London Craft Week, currently being held at the Malaysian High Commission until this Sunday.
Tunku Azizah was replying to the tribute paid by Pahang Tourism, Culture, Environment, Plantation and Commodities Committee chairman Datuk Seri Mohd Sharkar Shamsudin, who had congratulated her on the successful launch of the exhibition.
The Queen also thanked Pahang Menteri Besar Datuk Seri Wan Rosdy Wan Ismail as well as her team, which comprised staff and former staff of Kraftangan Malaysia and the Pahang Museum.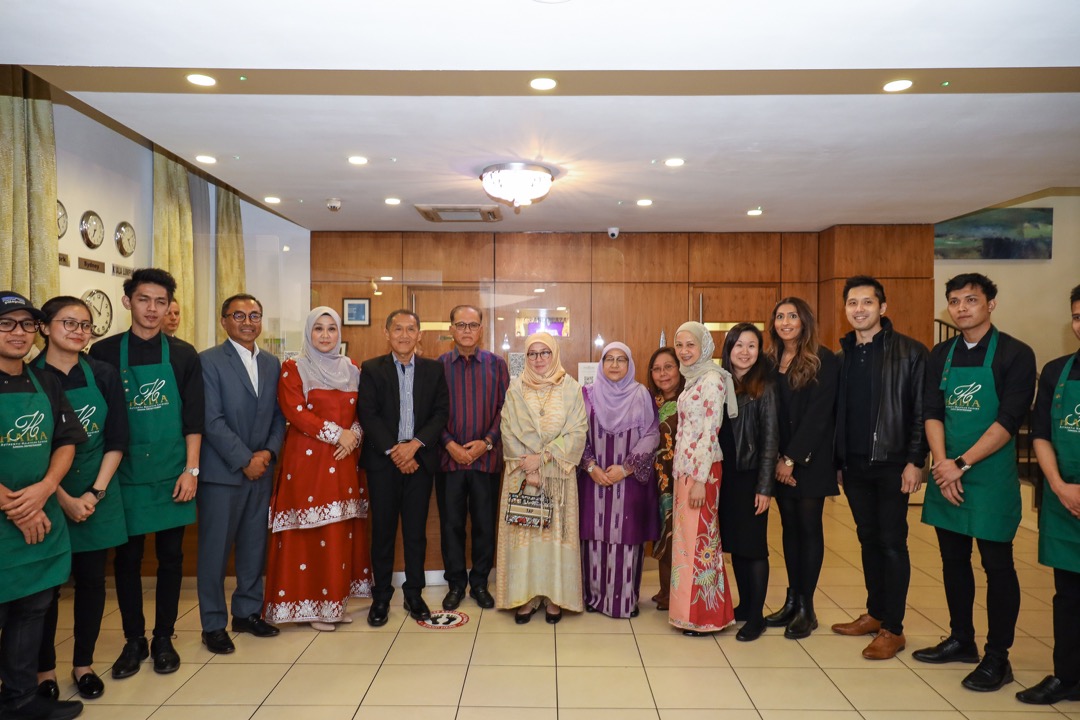 Tunku Azizah said it was her duty to serve Pahang by bringing the state's name to the world stage.
Sharkar, meanwhile, said it marked the beginning of realising the Queen's hopes of bringing Tenun Pahang DiRaja to the world.
"We are weaving hope in making Tenun Pahang Diraja a global icon," he said.
Halia UK, formerly Selesa Restaurant, located at the Bayswater Grand Plaza Serviced Apartments, was opened on April 1 under the new management of Noor Amy Ismail and Datuk Wahid Lasiman, who were also present.
Halia UK will be promoting Pahang traditional cuisine in London as part of its efforts to promote the east coast state.
Dishes from recipes published in the Raja Permaisuri's cookbooks, one of which is 'Air Tangan Tengku Puan Pahang', will be cooked and served at the restaurant, whose patrons include holiday makers from all over the world staying at the hotel.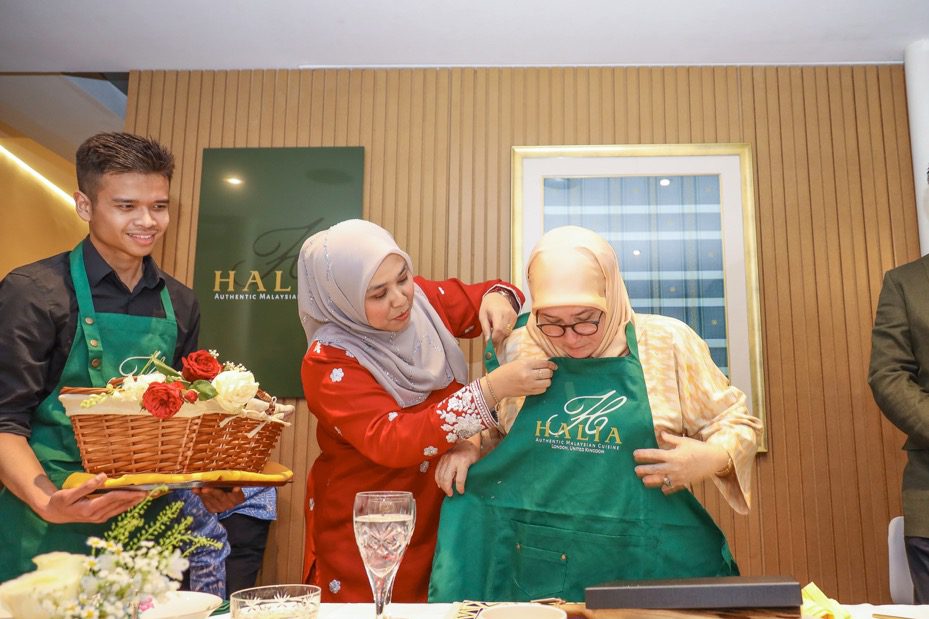 Tunku Azizah, donning the green Halia UK apron, also signed her two cookbooks.
She was also presented with a cheese board by the restaurant, as well a framed page of her recipe, penned by London-based Malaysian calligraphy artist Michelle Khaw.
Also on display on the wall of the new restaurant is a framed piece of tenun Pahang DiRaja.
(credit to NST News)